Six young cheetahs were chipped, sexed and dewormed by Burgers' Zoo Veterinarian on July 4, 2014. To the surprise of the biologists as well as the caretakers of Arnhem Zoo a cheetah female gave birth to a litter of six on May 24, 2014. Cheetahs may get two up to five cubs but the average litter size is three or four. Disturbing the peace and quietness in the nursery during the first few weeks may cause the cubs' deaths as predators are known to kill their own young from stress; they might even eat them. That is why mum and her sextuplet spent their first weeks backstage undisturbed and peacefully.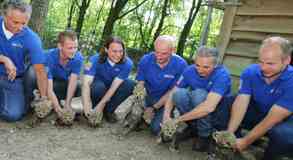 Young parents
The mother was born in Burgers' Zoo on March 1, 2010 whereas the father saw the light of day on March 21, 2011, in Salzburg, Austria but has been living in Arnhem since March 19, 2013. The cheetah female is a first time mum, which makes this large litter even more extraordinary. Up till now all cubs seem to be healthy and none of them lacks behind in development or growth.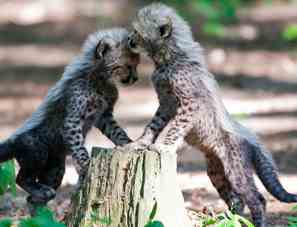 Nine cubs altogether
Breeding cheetahs is not simple. When males and females are kept in the same enclosure the animals may take one another for brother or sister and loose sexual interest in one another. That is why Burgers' Zoo has the disposal of several enclosures backstage so that males and females can be kept apart spend a short time together only during the mating season. Cheetahs live solitarily so this approach is very much like the natural situation. As the other female gave birth to a litter of three in 2013, there are now no less than nine cheetah cubs living in Royal Burgers' Zoo.