Royal Burgers' Zoo has been a proud holder of Green Key Gold since the recreation & leisure industry and business market category was added to the sustainable business eco-label in 2004. In the Netherlands, the eco-label comprises many compulsory standards and several optional standards. The extent to which an organisation meets the optional standards determines whether it is awarded Bronze, Silver or Gold.
The international hallmark assesses an organisation's sustainable entrepreneurship in the following areas: management (compliance with regulations), communication, social involvement, water, cleaning, waste, energy, building and greenery, guest and employee mobility, food and drink, purchasing and textiles.  A concrete, practical example is discussed each month in a series of articles on sustainable entrepreneurship at Burgers' Zoo.
Sustainable rainwater management: using grey water
Increasingly often, heavy rainfall in built-up areas leads to flooding, as the sewers can barely cope with the amount of water falling on roofs and pavements. This was a challenge for us as well. Sensible rainwater management is a necessity. An example of how we manage rainwater can be found in the area around the new ring-tailed lemur enclosures where we collect the water from paths and roofs in wadis. These depressions in the ground allow the water to slowly seep into the soil.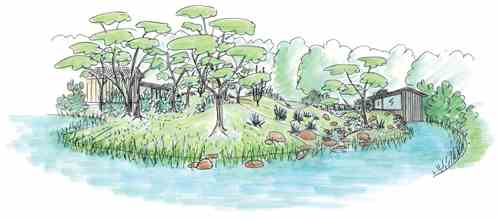 In addition to the wadis, we have also designed special catchment basins for rainwater, which collect the water that falls on the roofs of the Park Restaurant and the Kids Jungle in particular. We use this so-called grey water to fill and regularly refresh the pools in the penguin and elephant enclosures, among other things. The rainwater that falls on the Desert and the Bush is also collected in underground tanks and used to water the Bush every night. During hot summers, the rainwater that was collected throughout the year can also be used to provide the plants with sufficient water.
Saving energy by utilizing gravity
We have created three new moats around the new ring-tailed lemur enclosures to separate the animals from the visitors.  Each moat is at a different height allowing the water to flow from one to another. Gravity pulls the water from one moat to the next until the lowest moat after which the water is pumped back up again. This efficient and well thought-out construction of the enclosures allows us to minimise the energy consumption required to pump the water around, as we only have to pump it up.