Cartilaginous fish are fish characterised by their skeleton made of cartilage. Sharks and rays belong to this group. In recent years a lot has changed in the collection and collection planning of this group of fish. One of the most important changes is the arrival of two young blacktip reef sharks, although also with various species of rays a lot has happened. 
Blacktip reef shark exchange
A couple of blacktip reef sharks have already been swimming in our Ocean for fifteen years. A long time ago these sharks were confiscated in England, because they were kept in aquariums that were much too small. In addition to these sharks, a few little males came from Düsseldorf two years ago. The aquarium of Düsseldorf (AquaZoo) is currently being renovated and the biologist had asked if they could "sleep over" in Arnhem for a little while. This "a little while" became a bit longer due to delays in the renovation. In January the sharks left for Hamburg to stay over there the remaining time. The reason is that they had to make room for two new blacktip reef sharks from Emmen. A great acquisition for the Ocean. A special cage has been built to transport the sharks and to accommodate them in for a little while after that as well. Sailmaker DL Plastics of Friesland made the cage. No trivial activity!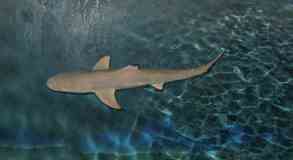 More blacktip reef sharks
Also behind the scenes are two young blacktip reef sharks, which were born in Europe this past year. Unique, because this rarely happens. A male, born at SeaLife Scheveningen, and a female, born at SeaLife Oberhausen, came to Arnhem to form a new breeding couple. Currently they are still too small to swim with the larger sharks; they would probably be eaten alive. Of course we do not want to take that risk. At this time they are still behind the scenes learning how to eat from feeding tongs. After quite a number of hours of training the little sharks finally seem to understand.
Breeding
Cartilaginous fish have been in our Ocean since it opened. There are species with which we breed, no longer breed or never have bred. Other species we do not have any more. In the table below is an overview of the breeding in our Ocean. For example, 90 epaulette sharks were born here and sent to 23 different public aquariums all over Europe. That was so much that it was decided to stop the breeding of this species. Altogether 237 young sharks and rays have been born here so far. A record to be proud of! Especially the number of baby eagle rays is unique in the world.  It is a wonderful and great experience to regularly care for the baby fish. Not all baby fish survive and just the knowledge we acquire with this, ensures that the survival rate is increased. 
| | | |
| --- | --- | --- |
| Species | Number of young | Number of public aquariums |
| Bamboo shark | 34 | 5 |
| Arabian ground shark | 7 | 2 |
| Epaulette shark | 90 | 23 |
| Leopard shark | 1 | 0 |
| Grey stingray | 55 | 25 |
| Bluespotted stingray | 8 | 6 |
| Spotted eagle ray | 42 | 11 |
| Total | 237 |   |
Rays
For each species a collection planning is created. Partially we can decide this ourselves, but we also do this together with the coordinator of the European breeding program for that species. For example, in consultation it was decided to stop the breeding of the grey stingray here. For years this couple had produced many young in our Laguna. These young rays were very strong and this genetic lineage is currently over-represented in European aquariums.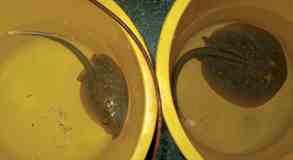 Each parental stingray has left for a different aquarium with the certainty that they will not be bred any more. Currently a new couple is put together at the Ocean. A male born at the aquarium of Goteborg and a female from the English Torquay. The male is at the Laguna already, the female is still behind the scenes for now. This new couple forms a new genetic lineage in the genealogical register and will be introduced to each other this year. A similar story applies to the bluespotted stingray in the coral reef. This couple has had twins four times already and currently she is expecting again. Absolutely wonderful, because this is a difficult species to breed. However, here too the coordinator has indicated that we should stop the breeding and start looking for a new female.