Royal Burgers' Zoo is pleased to announce the birth of two sun bears in a specially designed nursery early in the morning on Tuesday, 7 May. Like all bear species, sun bears enter the world naked, blind and helpless, so the Arnhem zoo waited out the first critical days and left the sow and her cubs completely undisturbed. Sun bear births are very rare in European zoos, and much welcomed by the European breeding programme. It is a first in the Netherlands.

European challenges
Studbook records from the European sun bear breeding programme show that a total of 38 sun bears live in European zoos affiliated with the EAZA (European Association of Zoos and Aquaria): 12 males and 26 females. The average age of the European sun bear population is considerably high, and there is an apparent surplus of females. The European breeding programmes are going very well for many species; this is unfortunately not the case for sun bears.
Stimulating effect on the hormone balance 
On Friday, 20 November 2018, a 15.5-year-old sun bear boar was transferred from the Edinburgh Zoo in Scotland to Arnhem, in the hope that his arrival would stimulate the hormone balance of the two already present sows, which were transferred to Burgers' Zoo from the Cologne Zoo in Germany on 22 April 2008..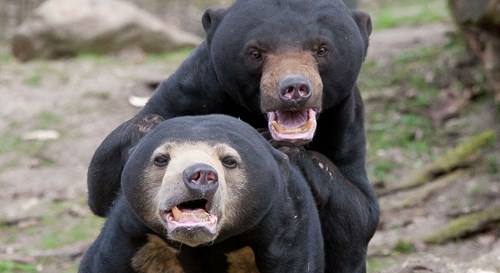 A difficult  mission has been accomplished
A fertility study by German specialists from IZW (Institute for Zoo and Wildlife Research) in Berlin on 12 January 2018 showed that one of the two sows is almost entirely infertile. The other sow had around a fifty per cent chance of a successful gestation. The age of the two sows plays a role in this. The arrival of the virile boar had its intended effect: zookeepers soon observed several mating sessions and, after a three-month gestation period, two cubs were born early in the morning on Tuesday, 7 May 2019.